Wick/McKee Springs Protection & Water Development (Elk Mountain, WY)
On June 5th, the Water for Wildlife® Foundation assisted the U.S. Fish and Wildlife Service and the Wyoming Game & Fish Department in the protection and enhancement of water at two spring sites. Each spring site includes the installation of a spring box to collect water, buried pipeline to run the water to stock tanks, and wildlife escape ramps in each stock tank. Water in the tanks will be available to both wildlife and livestock, but the spring locations will be fenced to protect against erosion and soil compaction. The overall goal of this project is to protect the springs and surrounding habitat to maintain rich wildlife species diversity. The wetland habitat around the springs is also of interest for possible brood-rearing of sage grouse. This area also serves as critical wintering range for mule deer and elk.
2018 Wyoming Outdoor Weekend & Expo – Lander, WY
WFWF recently had a educational booth at the 2018 WY  Outdoor Weekend in Lander, WY on May 18th and 19th.  The first day of the event involved teaching 3rd-6th grade students from around the area about Water for Wildlife® with a wildlife trivia game.  We spoke with numerous event attendees that evening and the following day about WFWF mission and projects.
Donation received from a local Lander business in April 2018
WFWF recently received a generous donation from Zander's One Stop in Lander, WY.  This donation will help provide supplemental water sources to wildlife in the arid West.  To read the full article by County 10 news, click here.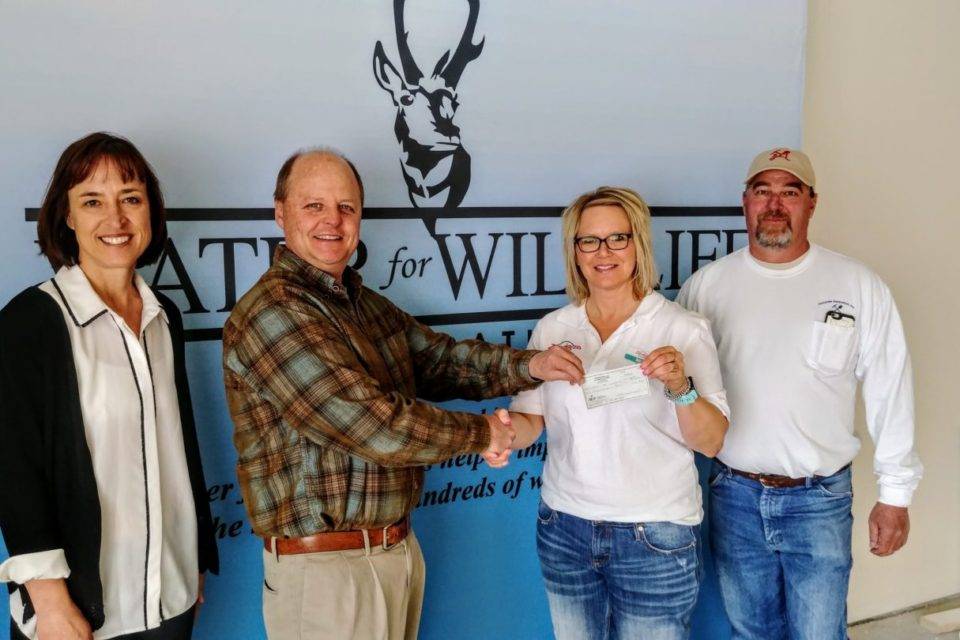 ---
Water projects dedicated at the WFWF banquet on September 14th, 2017:
ID #394: Harold John's Canyon Project #3 (Ed and Barbara Gladish)
WY #402: Pennock Well Development (Chuck and Kathy Guschewsky)
WY #404: Stone Ranch Water Development (Richard Klouda with support from the One Shot Antelope Hunt Club)
WY #405: Willow Creek Water Quality Improvement & Riparian Habitat Restoration (Doug Lynn)
WY #406: Flying A Ranch Range Improvement (John Egan III)
CO #409: Dome Rock State Wildlife Area Guzzlers (Doug and Shelly Sayer and the Wild Sheep Foundation)
TX #411: Kerr Wildlife Management Area Wildlife Guzzler (Reagan Kott)
TX #412: Mason Mountain Wildlife Management Area (Nancy and Dave Hudson)
UT #416: Pherson Cove Guzzler Replacement (Mzuri Wildlife Foundation)
ID #417: Stone Hills Water Developments – Phase II (John and Sandy Mayfield)
WY #418: Upper Nowater Stockwater Pipeline #2 (Dave and Darlene Vaughan)
TX #419: Kerr Wildlife Management Area Guzzlers (Don and Karen Small)
CO #420: Garfield Creek State Wildlife Area: Badlands Water Project (Doug and Shelly Sayer and the Wild Sheep Foundation)
WY #421: Li Guzzlers (Jerry Snyder)
KS #423: Hayes' Abandoned Farm (Boyd Sharp)
KS #424: Cheyenne County Water Quality Enhancement & River Walk Establishment (Bill Froelich Sr.)
WY #427: Trapper's Point Interpretive Pullout (Doug and Shelly Sayer and the Wild Sheep Foundation)
UT #430: Guzzlers in Box Elder III (Harvey Watt Jr.)
WY #431: Wapiti Ridge Spring Tanks (Gary Schlessman – Schlessman Foundation)
WY #433: Eversole Ranch Water Wells Rehabilitation (Dax McCarty – Wagonhound Outfitters)
CO #434: Pueblo State Wildlife Area Guzzlers (Doug and Shelly Sayer and the Wild Sheep Foundation)
NM #435: Sombrero Trick Tank Project (Dave Campbell)
WY #439: Ed O. Taylor WHMA Wildlife Watering Facilities (Mickey and Vickie Asbell)
ID #440: Cedar Butte/Wood Road Guzzler (Justin Young)
UT #447: Lake Mountain Small Game Guzzlers (John Fuller – Fuller Foundation)
CO #450: Piñon Canyon Solar Well #2 (Doug and Shelly Sayer and the Wild Sheep Foundation)
AZ #451: Music Mountain #4 & #5 Water Catchments Redevelopment (Buck Buckner)
AZ #454: Water Development Complex: Mingus Mountains (Don and Barbara Kennedy)
WY #455: Ferris Mountain Wildlife Guzzlers (Dick and Martha Gray)
NM #456: Sedillo Wildlife Water & Exclosure Replacement (Charles Melman)
WY #457: Platte Valley Riparian Enhancement & Fence Modification: Phase II (Jeff Ranta)
WY #468: Antelope Springs Snow Fence Repair (Ron Tiberti)
CA #469: Raincatcher Wildlife Water Systems (Kevin Destruel)
---
Ferris Mountain Wildlife Guzzlers Installation
On July 21, 2017, the Water for Wildlife® Foundation helped construct four guzzlers in the Ferris Mountains.  42 people hiked up the steep slopes and installed the guzzlers.  Everyone accessed the remote sites by foot and installed the guzzlers in less than one day without any mechanized equipment – just handtools and a lot of sweat.  Guzzlers were camouflaged with natural materials found near the site including dead trees and rocks.
This project enhances bighorn sheep habitat by increasing high-elevation water sources and reducing the need for sheep to travel long distances to water. In addition to bighorn sheep, the guzzlers will also provide water for other wildlife species including elk, mule deer, neotropical migrant birds, and small mammals.  Remote, motion-detecting cameras were installed at the guzzler sites to provide documentation of the wildlife species benefiting from this cooperative effort.
This project was a product of several generous funders including the Wyoming Wild Sheep Foundation, the Wyoming Governor's Big Game License Coalition, the Rocky Mountain Elk Foundation, Bowhunters of Wyoming, and the Water for Wildlife® Foundation.  The participants who provided technical expertise, manual labor, and other support to install the guzzlers represent the Bureau of Land Management, Wyoming Game and Fish Department, Water For Wildlife® Foundation, Bowhunters of Wyoming, Wyoming Chapter of the Wild Sheep Foundation, and Sweetwater River Conservancy at Pathfinder Ranches.
Please enjoy these photos from the project:
---
Seminoe Mountain Guzzler Installation
In mid-July 2016, in cooperation with the Wild Sheep Foundation and Wyoming Game and Fish, the Water for Wildlife® Foundation helped fund and construct the Seminoe Mountain Guzzler. This guzzler will provide a reliable water source for the big horn sheep population that resides in the area as well as many other game and non game species. Thank you to all the volunteers who helped construct the project.
Please enjoy these photos from the guzzler installation:
---
Foo Foo Rah Field Tour 2016: Saratoga, WY
In 2016, the annual spring meeting for Water for Wildlife® took place in Saratoga, WY during the weekend of June 11th. The meetings went well, and we had the opportunity to take a small group of passionate conservationists out to look at one of the WFWF projects southeast of Saratoga. We visited the A-A Guzzler project. The A-A Guzzler was funded for installation by Water for Wildlife® in 1990 and was installed during the following summer. In 2008, the project needed repairs and was approved and funded by Water for Wildlife for the repairs to be completed in the following summer.  We would like to thank the Wyoming Game and Fish for helping ensure the success of this field tour. Here are a few photos from the tour: