---
Water for Wildlife Conservation Center/Evans-Dahl Museum receives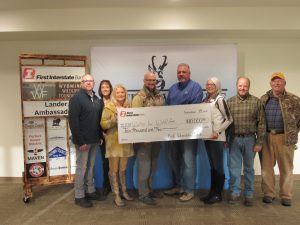 donation.
First Interstate Bank and First Interstate Bank Foundation awarded a major grant to the Water for Wildlife Conservation Center/Evans-Dahl Museum in November 2019. Vickie Hutchinson, on behalf of the Water for Wildlife Foundation Board, gave a huge "thank you" for granting these funds to help us complete the Water for Wildlife Guzzler Exhibit. Your support will bring our museum exhibit to completion. Our goal is to have the museum be a great asset to Lander. We envision school children, families, outdoor enthusiasts, touring visitors and many more coming to the museum to learn about conservation. In addition, we will be welcoming community group meetings. When displays are complete, we plan on hosting authors, traveling artists and many other events for Lander, WY.
---
Wick/McKee Springs Protection & Water Development (Elk Mountain, WY)
On June 5th, the Water for Wildlife® Foundation assisted the U.S. Fish and Wildlife Service and the Wyoming Game & Fish Department in the protection and enhancement of water at two spring sites. Each spring site includes the installation of a spring box to collect water, buried pipeline to run the water to stock tanks, and wildlife escape ramps in each stock tank. Water in the tanks will be available to both wildlife and livestock, but the spring locations will be fenced to protect against erosion and soil compaction. The overall goal of this project is to protect the springs and surrounding habitat to maintain rich wildlife species diversity. The wetland habitat around the springs is also of interest for possible brood-rearing of sage grouse. This area also serves as critical wintering range for mule deer and elk.
---
Water projects presented at the WFWF banquet on September 19th, 2019:
Barbara and Don Kennedy in memory of Tod Kennedy
Colorado Guys
Pat Rolfes (2)
In honor of John Rolfes (son)
In honor of Maddie Rolfes (daughter)
Robin Alexander for Zander's
Gary McCauley Memorial
Robert Scott in memory of Terry Scott
Evans Dahl Museum Committee
Mzuri Foundation
---
Ferris Mountain Wildlife Guzzlers Installation
On July 21, 2017, the Water for Wildlife® Foundation helped construct four guzzlers in the Ferris Mountains.  42 people hiked up the steep slopes and installed the guzzlers.  Everyone accessed the remote sites by foot and installed the guzzlers in less than one day without any mechanized equipment – just handtools and a lot of sweat.  Guzzlers were camouflaged with natural materials found near the site including dead trees and rocks.
This project enhances bighorn sheep habitat by increasing high-elevation water sources and reducing the need for sheep to travel long distances to water. In addition to bighorn sheep, the guzzlers will also provide water for other wildlife species including elk, mule deer, neotropical migrant birds, and small mammals.  Remote, motion-detecting cameras were installed at the guzzler sites to provide documentation of the wildlife species benefiting from this cooperative effort.
This project was a product of several generous funders including the Wyoming Wild Sheep Foundation, the Wyoming Governor's Big Game License Coalition, the Rocky Mountain Elk Foundation, Bowhunters of Wyoming, and the Water for Wildlife® Foundation.  The participants who provided technical expertise, manual labor, and other support to install the guzzlers represent the Bureau of Land Management, Wyoming Game and Fish Department, Water For Wildlife® Foundation, Bowhunters of Wyoming, Wyoming Chapter of the Wild Sheep Foundation, and Sweetwater River Conservancy at Pathfinder Ranches.
Please enjoy these photos from the project:
---
---